Heels have a very special way of making a woman look even more attractive than she already is. It makes her legs appear longer, giving the illusion of legs for days. The back will naturally arch more, causing the all right body parts to stick out. And if a woman is actually able to walk in heels, it can be as exquisite to watch as ballet. In This Article, You will read about, high heels engineered For comfort.
So why don't women wear heels all the time? That's easy! They're way too uncomfortable to endure every day. But why are they made to be so uncomfortable? Some say that's because they're only sexy BECAUSE they're uncomfortable, and that's why they offer no built-in comfort. And if that were true, why have studies shown that men find women smiling more attractive than frowning? And how can any woman be smiling properly when she's wriggling in pain in her heels? The thing is, high heels don't need to be uncomfortable, and women can enjoy all the attractive benefits heels bring without the blisters.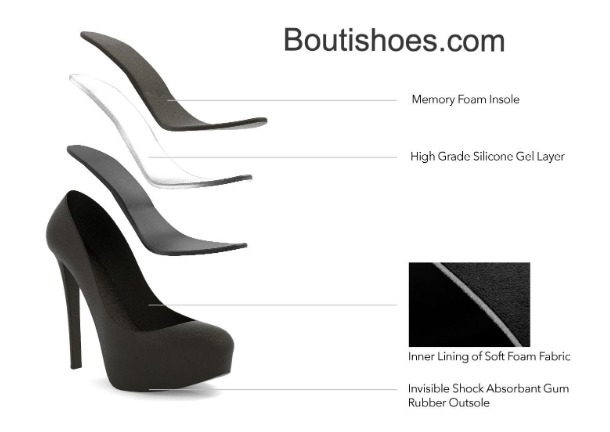 I mean imagine if sneakers were made the same way? First off there's no real insole, which adds 0 cushioning. Then there are the hard inside walls that chaff on your feet and cause blisters. And lastly the sad excuse for an outsole that offers no floor grip and no shock impact. It's no wonder why high heels are so uncomfortable.

There are ways to make heels more comfortable, here are a few ways.

1) Put band-aids on areas your feet that is prone to blistering. Moisturize your feet before will help with chaffing. But Comfortable Heels lines all their high heels with a soft and lightly padded fabric which will avoid any skin irritations
2) Head to your pharmacy and add an insole. Memory foam and silicone gel insoles work wonders for cushioning the foot. Insoles can get pricey and often your heels don't have enough space inside to fit anything more than your foot. But Comfortable Heels has a built-in silicone gel AND memory foam insole already built into the heels.
3) Choose heels with a shorter distance between the heels the balls of your feet. The basic of walking in the heel is "Heel to toe". You put all your weight on only the heel and balance long enough to land your step on your toes. Choose a pair of heels that have a shorter distance between the heel and the balls of your feet to make landing your step easier. Unfortunately, most heels are designed with the heel completely on the edge. But Comfortable High Heels is a shoe brand that makes all their heels with a heel a bit more centered inwards for a balanced step.
Read Also: The Best Wedding Dress Collection Amelia Sposa
The up and rising shoe brand Bouti is specializing in making comfortable Engineered High Heels which have a solution to all comfort issues. Their heels feature a closer heel to toe distance, shock-absorbent outsoles, gel and memory foam insoles, and a very soft and lightly padded lining. They're launching a luxurious new collection of heels made for comfort and long wear by October 2020 on their website www.boutishoes.com
The best part is they're very affordable!