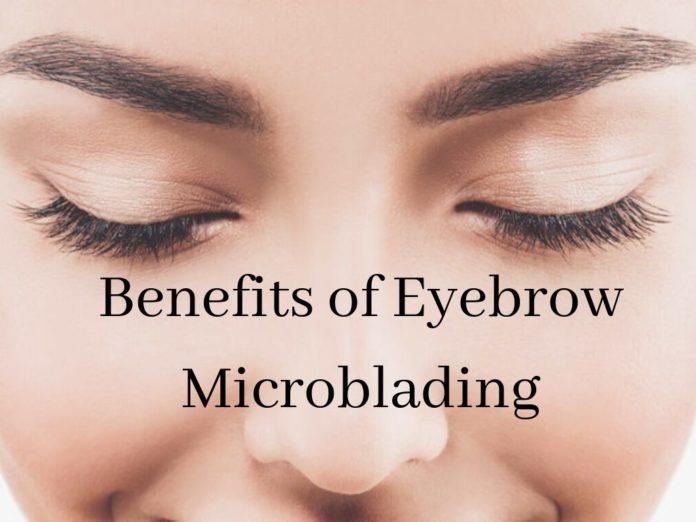 The perfect shape of the eyebrows helps to enhance the physical appearance of a person by enhancing the facial beauty of an individual. Eyebrow Microblading can be defined as the permanent eye technique where a small hand tool is used for creating a light, wispy, fuller and darker hair strokes.
Other than microblading there are various ways of getting thicker and beautiful eyebrows by waxing or threading. Further, makeup can also help you to get fuller and beautiful eyebrows. But all these methods are short-lived and lasts for about 15-20 days. So, the permanent way to get the proper shape of your eyebrows is by microblading the eyebrows. Microblading the eyebrows has become one of the latest trends in the fashion industry. There are multifarious advantages associated with microblading of your eyebrows which are enlisted as follows
Provides Semi-Permanent Results
Microblading is a semi-permanent procedure that offers some amazing results and can be considered like a permanent tattoo that gives perfect eyebrow design to your brows and gives it an ultimate look. Microblading needs to be done only after 2 or 3 years and can retain its shape and size for many years with only a few touch-ups. Therefore, we don't have to rush to the salon whenever we have to go to attend the party or wedding.
Microbladed Brows Requires No Maintenance
After you get your eyebrows microbladed , you need not worry about getting the ideal shape for your eyebrows by either plucking or waxing them. Microblading can be defined as one of the most effective ways to get flawless eyebrows.
Ultimate Solution to Regain Eyebrows
The Microblading process is perfect for people who want to regain their eyebrows and have lost it due to an illness or chemotherapy. These people can regain natural looking eyebrows in a few hours.
Painless, Safe and Effective
You can get the right shape for your eyebrows by the process of microblading which is painless and safe. This procedure produces natural-looking semi-permanent eyebrows in the safest manner
Natural Looking Results
It is nearly impossible to spot a difference between a natural eyebrow and a microbladed one. The best Microblading makeup clinics in the industry know how to use this technique to their advantage and give customers the desired look for eyebrow.
 Results Are Waterproof
The artificially drawn eyebrows usually have the problem of getting smudged or distorted under the effect of sweat and water. However, you face no such problem with a microblade eyebrow.
Fast And Quick Process
The process of microblading is a fast and quick process in which everything is swift and nothing needs to be hidden with bandages. We can get immediate results after getting the eyebrows microbladed and this cosmetic procedure does not demand any time of recovery.
Read Also: 5 Ways To Get The Eyebrows You Always Wanted
The professionals are so proficient in their work that the eyebrows get into proper shape which has fuller and thicker eyebrows. Microblading gives you a natural look that enhances the facial beauty of a person.