Trends…they come and they go. From the cat-eye sunglasses of the '50s to biker shorts from the '90s, trends and accessories tend to have a way of cycling through mainstream culture. But knowing the intricacies of styling these accessories can be a challenge. What shoes should I pair with that chunky belt? Sleek stilettos or sassy sneakers? Personally, I would go with stilettos. But in the world of Trendy Accessories, it's easy to lose track of what we should and should not be doing. 
But don't be intimidated! You're in the right place. Fashion may be a finicky part of life, but that doesn't mean you can't keep up with it. 
Bucket Hats
Back from the dead! The bucket hat has been making a splash as of late, along with other stylish hats. This trend can be polarizing: you either love it or you hate it. But a bucket hat isn't limited to strictly fishing and outdoor activities. Whether you like it or not, the bucket hat is a trendy accessory right now, and can easily be rocked by anyone. 
How to Wear It 
Styling your outfit to highlight your bucket hat may seem tricky, but if you keep a few tips in mind, you'll be able to rock the bucket hat. Remember to keep it simple. The shape of the bucket hat makes enough of a statement, so dressing in solid colors and clean lines will accentuate the bucket hat and make a statement. 
It's also important to keep your hairstyle in mind, Bucket hats typically look best when your hair is showing. Whether you have long, straight hair or short, curly hair, it's best to let your locks flow beneath your bucket hat. 
Bulky Chain Necklaces
An accessory that looks good on just about everyone, the bulky chain necklace is a trendy accessory that is guaranteed to elevate any look you pair it with. From day to night, this accessory is a must-have for the latest looks. 
How to Wear It
Whether it's gold or silver, there are many ways to style this accessory. So, don't be afraid to be bold with it! Dress up your athleisure wear with a gold necklace, or give your office attire some extra life by accessorizing with a silver chunky necklace. Plus, if you're really looking to make a statement, this accessory pairs well with just about every print. 
The chunky necklace looks good on anyone, so start rocking yours today! 
Bold Belts
Belts are a staple for any woman's closet. From the classic leather belt to a thin, diamond-studded belt, these waist-cinching accessories are a favorite for many women. But belts do more than hold up your pants–this accessory is the perfect opportunity to make any look pop! 
How to Wear It
Mastering the bold belt doesn't take much know-how. They do wonders for every shape and size, highlighting our curves, and if you're on-trend, you know that a bold belt can take any look from drab to fab. Styling this classic accessory is pretty easy to do. Pair a thin, neon red waist belt with a simple black dress, or even rock a chunky printed belt with your favorite pair of high-waisted jeans. When it comes to bold belts, it's best to let them be the statement piece of the outfit. Too many prints or accessories will give the eye nowhere to focus. So, when you're choosing a printed Trendy Accessories or vibrant belt, be sure to pair it with simple colors that will highlight the beauty of the accessory.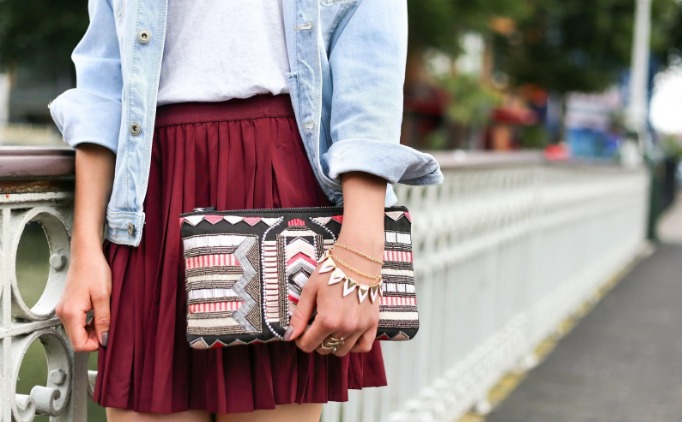 The Clutch
Purse trends are always evolving. Big and bulky bags are in one year, then sleek and slim ones the next. Well, this year, the clutch is taking the fashion world by storm. Clutches are a stylish alternative to a larger purse or bag for carrying your wallet and other daily necessities. But these days, clutches are used for far more than that. 
How to Wear It
Like most accessories, the clutch is probably in most of our closets. It's the perfect alternative to wearing a purse and having to deal with a strap across our body. But chances are, your clutch could use an update. Nowadays, clutches are all about making a statement and being bold. Graphic design clutches Trendy Accessories are a great way to add a pop of color to your outfit while letting some of your personality shine. Looking to vamp up your date-night look? A vibrant clutch will be the perfect addition. 
Whether it's a captivating clutch or a bold bucket hat, the latest accessories will always be changing. But that's part of the fun, isn't it? Staying up-to-date with the hottest trends presents a rewarding challenge that allows us all to express a bit of ourselves every day when we walk out the door. And we have to remember that no matter the trend, anyone can rock it.