When it comes to business attire for plus size women, you must not focus on getting plain or simple outfits with the aim to hide your curves. You can be confident by mixing the right colors with varied tops and bottoms gracefully.
We all understand that working 9-5 is full of challenges, as you have to keep a balance between your housework and profession. Getting work-appropriate attire that fits well is one of the major challenges that many women face every day. Luckily, you have several places that offer a great collection of plus size business attire for women and help you wear the outfit confidently.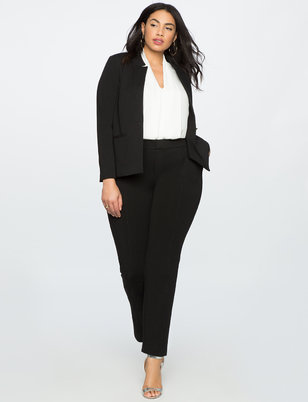 Whether it is about selecting blazers, business suits, business trousers, or any other workwear, these stores have everything to build a perfect business wardrobe. Moreover, they also keep you from any kind of wardrobe malfunction.
Are you wondering where to find the perfect plus size business attire? Here, we have collected some of the best brands that can be chosen depending on your budget and outfits choice.
Catherines
If you want a brand that offers affordable plus size business outfits, Catherine can be your best choice in this regard. It offers a variety of attire ranging from size 16 to 34, and through 0X through 5X. This store is well-known for many outfits suitable for work. Whether you want a gorgeous dress or a combo of a skirt and jacket, it has everything to offer.
Torrid
This store is quite trendy and fashionable than other plus size clothing stores. For many plus-size women, Torrid is on the top of the list for classic workwear. More to this, you can also find great business outfits to mix and match and enhance your workwear collection stylishly. It offers outfits from size 10 to size 30.
The store has a fabulous collection of reasonably priced blouses, trousers, skirts, shorts, and even jackets that give you a perfect professional look.
Belk
This North Carolina-based store offers attire not only for plus size women but for men and kids as well for any size. If you are a plus-size woman and looking for gorgeous attire to wear at your workplace, you will be amazed to find a quite impressive collection of business suits and separates on the website of Belk.
What distinguishes this store from others is that you can find almost everything within $100, thus a perfect place for plus size women with a limited budget. Apart from clothing, you can also buy fashion and fine jewelry as well as a variety of stylish handbags.
Eloquii
Many women are quite keen on Eloquii clothing. It offers a huge collection of attire that can be mixed and matched to get the perfect business outfit. In addition to this, you can also get casual wear, thus giving you wonderful options to enjoy being on the weekend and then back to work in a style. When it is about the workwear section on this store's website, it is really hard to shortlist your favorites.
Woman Within
It is worth mentioning this store that offers special discounts to its customers on a regular basis. If you want to buy casual workwear and want to look cool in your business attire, there are several Woman Within outfits that can be worn in your workplace without getting too professional.
You can buy business suits, skirt suits, business dresses, etc., and have that perfect businesswoman look. When you have a considerably large collection of suits in front of you, it is good to check the store properly for attire that fits you perfectly.
Jessica London
Want to get something different than usual business suits? Jessica London has a wonderful selection of pantsuits and skirt suits in a variety of colors which may be hard to find in other stores. Additionally, you have skirts, trousers, and tops options to mix and match as per your choice.
Moreover, no matter what you are going to buy here, everything costs you less than you have ever expected while buying plus size business attire for women.
Lane Bryant 
Almost in every list of places to buy business attire for plus size women, you will see Lane Bryant for just one reason i.e. stylish and affordable pieces. It not only offers a great in-store shopping experience to the customers but also aims to deliver something fabulous to wear on a daily basis.
Not only this, but Lane Bryant is also a great place for blazers and you can become a great fan of its dress styles. Its collection of dresses is a bit more workplace-appropriate than other brands that just focus on designing the modest plus size business attire for women.
Eshakti
Last but not the least, here we have added Eshakti to this list. What makes Eshakti a perfect option for plus size women for business attire is tons of different styles and offering custom sizing at the best prices.
You can have a perfect fit with Eshakti, this is somewhat hard to get from other stores. It means if you are worried about your bulky figure, you can have an attire that best fits you from all parts of your body, thus giving perfect business attire from everywhere.
Final Words
If you want to know where to buy perfect fitted plus size business attire for women, this list can help you find your workwear from your affordable place.
Try these stores to buy classic yet stylish plus-size workwear. You will surely be overwhelmed with the world of business outfits where fit is a challenge for most women.